You are not a victim. You are 100% responsible for the life you have right now. If you are unhappy,
you have the power to change your attitude and actions to begin making your life better. Always
remember, whether you think life sucks or you think life is great, either way, you're right.

Ever notice how some people are able to brush off insults, while others get furious and start
throwing punches? Realize that nobody can "make" you feel anything. You are the one that
"chooses" to feel good or bad about a particular event or action that occurs.

If you want to be more confident, happy, or positive, then "pretend" that you already are this way.
Eventually, after practicing this long enough, you'll realize that you're no longer "pretending".

A purpose is what you enjoy doing that you never get tired of and you will do for the rest of your
life. Is your purpose to write screenplays? Is it to help sick people? Write down on index cards
a list of purposes and choose the one that speaks to you the most.

List out 5 to 10 goals that you want for your life. Break each goal up into smaller sub-goals and
then break those sub-goals into individual tasks and action steps. Every night, plan the next
day in advance. Create a daily "to-do list" with those tasks that you need to do to accomplish
your goal.

Regret and shame come from dwelling in the past. Worrying and anxiety come from living in the
future. True peace of mind comes from living in the present. The more you become aware of
being in the present, the more it becomes a part of your daily life.

The power of attraction is a powerful mental tool. The process works by focusing on something
that you want while visualizing that you already have it. You then have a heightened level of
awareness for recognizing opportunities that occur around you. These opportunities will then
assist in bringing what you want into your physical reality.

Your comfort zone (what you feel comfortable doing) is always in a state of either expanding
or contracting. The more you get out in the world and do what you feel uncomfortable doing,
the less inhibited you become, thereby allowing you to live a richer and fuller life.

Every morning before you start your day, give thanks and appreciation for what you have. It's
only when we are thankful for what we have that life gives us more blessings and abundance
to be thankful for.

Don't be afraid to ask for what you want. The squeaky wheel gets the grease. It's the reason
that children ask their parents for the same thing over and over again, because they know mom
and dad will eventually cave in. The same concept works in the real world. If there is something
in the world you want, ask for it...or at least ask how to get it.

Find the successful people in your field and ask them for advice. Ask them what they do to be
successful, take notes, and then copy them. A lot of people think that the pros don't want to share.
The opposite is actually true. Most successful people are more that willing to share their
knowledge if you ask them.

Trolls are people that will try to discourage you from your dreams. Don't listen to them. Realize
that the only reason they are doing it is because by seeing you chase after your dreams, it's
reminding them that they aren't chasing theirs. Misery loves company.
Monday, May 30, 2011
If you have never been to Washington DC, I HIGHLY recommend that you get there soon!! I Have such a wonderful weekend and not only was the weather absolutely amazing...but there is so much to do!! And a lot of it is FREE!
We started out at the Botanical Gardens...which is just stunning. It re-ignited my desire to make my front yard into a Home & Garden cover page- but they are wayyyy more skilled than I am!
It was hard to resist touching the flowers- everything looked so soft to the touch, and it was!
ALWAYS a site to see! We went by the White House at night and it was lit up so beautifully :)
Next stop- the museums! Because it was a holiday weekend, everyone had the same idea to go check out the Natural History Museum and the Native American Museum. I am definately adding the Hope Diamond to my Christmas Wish List this year- it is larger than life!
Who knew marine life could be so interesting! After watching a video on Killer Whales I think I now hate them- they are sooooo mean! those jerks!
We also went to the 3-d Imax Dinosaur show- very cool But those glasses you have to wear...not so cool lol
I could not get over how gorgeous the building was! Marble everywhere and gorgeous fountains!
After walking around for 6 hours we decided to treat ourselves to some subs! and a 1,00 calorie homemade ice cream sandwich!! It was DELICIOUS!!!! I'll NEVER forget it lol
The coolest part of the trip- The National Zoo!! There were wayyyy to many awesome animals to take pics of, but here are some of them!!! LOVVEEED the zoo!!
As I've learned more about nutrition, I've become increasingly aware of the ubiquity of foods that offer almost no nutritional value whatsoever. What's so shocking is that most foods that are available at your grocery store fall into this category known as "empty calories".
What Are Empty Calories?
Empty calories are foods that are high in calories but low in nutrients, including vitamins, minerals, anti-oxidants, and fiber. Empty calories typically are highly processed, have added chemicals and sugars, and may add synthetic (not natural) vitamins and minerals after processing.
While I seldom eat empty calories now, I lived on empty calories for most of my life. As you'll see from the photos below, it's hard not to eat empty calories because they are simply everywhere and are considered "normal" foods. It took me a long time to "readjust" my taste buds and become accustomed to eating more natural, unprocessed foods. Now, I really don't miss empty calories and carbs at all.
My estimate is 70% of the foods at an average U.S. grocery store are comprised of empty calories and carbs that provide little, if any nutritional value. The foods that are high in sugar may even be toxic for your health (
The photos below I took at the same NYC grocery store, which represents just a small sample of all the empty calories & carbs.
Empty Calories Pic #1 – Sugar Cookies
Empty Calories Pic #2 – Sugary Syrups & Jam
Empty Calories Pic #3 – Let Go My Eggo With Chocolate Chips!
Empty Calories Pic #4 – Chips Anyone?
Empty Calories #4 – Here's Another Helping of Chips…
Empty Calories Pic #6 – Endless Fruit Juice
Some fruit juices are fairly nutritious, but most have tons of added sugars, don't fill you up, and lack nutrition. Drinking calories is one of the easiest ways to gain fat. Nothing is as good as water for hydration of course.
Empty Calories Pic #7 – Endless Soda
Empty Calories Pic #8 – Rolls & Cakes
Empty Calories Pic #9 – Candy Galore
Empty Calories Pic #10 – More Candy….
Empty Calories Pic #11 – And Even More Candy….
Empty Calories Pic #12 – Breakfast Cereals, or Candy?
Some cereals have vitamins, minerals, and are low in sugar, but most are basically like eating candy. Check out the amount of sugars per serving in some of these cereals and you'll see what I mean. Even the "healthy" cereals are dubious.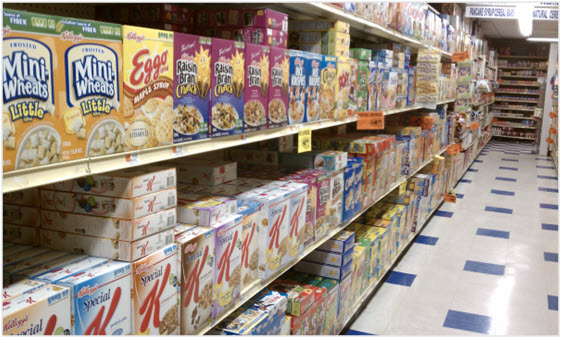 Empty Calories Pic #13 – The Definition of Empty Carbs…
White bread doesn't have added sugars like all the other examples, but doesn't bring much to the table. I'm only human and eat white bread from time to time, but more natural carbohydrate sources are preferable.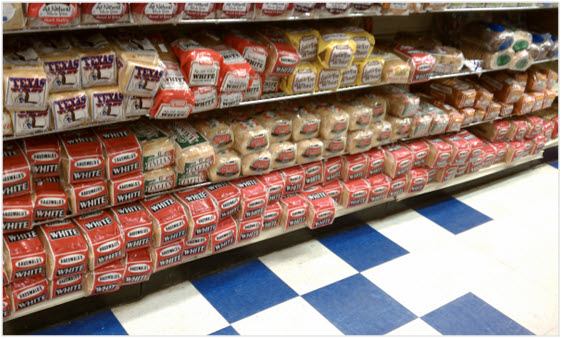 Empty Calories Pic #14 – More Cookies…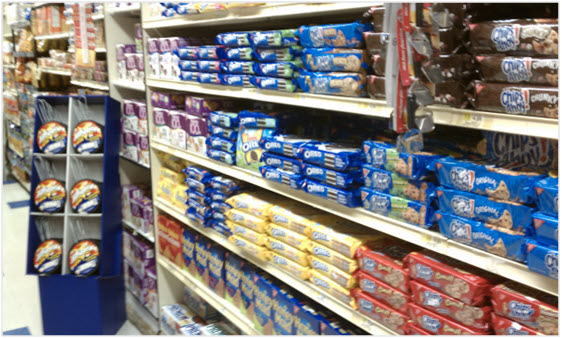 Empty Calories Pic #15 – And We Can't Forget Pastries
It's not easy for me to add this photo, because I lived on Entenmann's Chocolate Chip Cookies and the Golden Chocolate Cake growing up. The amount of sugar in these pastries is jaw dropping; only 9 cookies is over 33 grams of sugar, which is 7 teaspoons of sugar. A box is 33 cookies, which is 121 grams of sugar (30 teaspoons of sugar) and 1500+ calories.
What percentage of a grocery store do you think is empty carbs & calories?
- THEME BY ECLAIR DESIGNS -