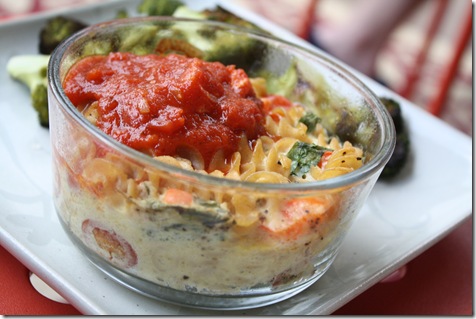 Ingredients (for three servings):
2 cups cooked whole wheat pasta, boiled per package directions and drained
4 eggs, beaten
1/2 cup hummus (I used a white bean hummus)
1/4 red pepper, chopped thinly
10 leaves of fresh basil, chopped
1 large handful of grape tomatoes, chopped
1/4 tablespoon pepper
Sprinkle of salt
Pasta sauce to top

Directions:
Preheat oven to 375 degrees and grease three small ramekins.
In a large bowl, combine all ingredients except for pasta sauce.
Pour mix evenly into ramekins and bake at 375 degrees for 25 minutes, or until egg is firm.
Remove from oven and drizzle with pasta sauce.
Enjoy!